The 8" Bubble Head Glass Dab Rig is a stylish and functional piece designed to enhance your dabbing experience. Here are its key features:
Diffused Fixed Stem Design: The rig features a diffused fixed stem design, which helps to diffuse and filter the smoke, providing smooth and enjoyable hits.

Bent Bubble Neck with Flared Mouthpiece: The rig has a bent bubble neck with a flared mouthpiece, offering a comfortable grip and preventing any splashback during use.

Direct Inject Joint Size: The rig is equipped with a 14mm female direct inject joint, allowing for easy attachment of compatible accessories.

Perc: UFO Shower Head Perc: The rig is equipped with a UFO showerhead perc, which further diffuses and cools the smoke for a smoother hit.

Color Perc & Mouthpiece: The rig features colored accents on the perc and mouthpiece, adding a touch of style and personalization to the piece.

Height and Measurements: The rig stands at a height of 8 inches from the base to the mouthpiece and has a joint-to-joint height of 4.5 inches. Please note that actual measurements may vary slightly due to the handmade nature of the product.
The 8" Bubble Head Glass Dab Rig combines aesthetics with functionality, providing a visually appealing piece that delivers smooth and enjoyable hits. The combination of the bent bubble neck, flared mouthpiece, and UFO showerhead perc ensures a comfortable and efficient smoking experience. Whether you're a seasoned dabber or new to the world of concentrates, this rig is sure to become a favorite in your collection.
8" Bubble Head Glass Dab Rig Features:
Diffused Fixed Stem design
Bent Bubble neck with a flared mouthpiece
Direct inject joint size: 14mm Female
Perc: UFO Shower Head Perc
Color perc & mouthpiece
Height from base to mouthpiece: 8" 
Height from base to top of rig joint: 4.5"
Actual Measurements May Vary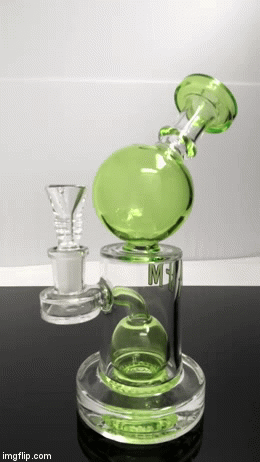 Shipping is free on all orders $75+ within the lower 48 states only. Any order under $75 has a flat rate of $7.50.
Orders from Hawaii & Alaska and Canada will have a carrier rate applied based on order size, weight, and address.
All return claims must be emailed to smokeafm@gmail.com within 48hrs of order delivery with photos to be eligible for a free return label. Any order return claims emailed after 48 hours will be charged $7.50 for a return label fee.
For any incorrect, missing, or broken items please email us at smokeafm@gmail.com with your order number, photos showing the issue. We will do our best to take care of the situation the best we can.