Elevate your dabbing sessions with our 11.5" Triple Arm Perc Glass Dab Rig. This impressive piece features a diffused fixed stem design and a triple 9-arm perc, delivering exceptional filtration for smooth and flavorful dabs. Explore the captivating features that make this dab rig a true standout.
Superior Filtration with Diffused Fixed Stem Design: Enjoy the cleanest and smoothest hits with the diffused fixed stem design of our dab rig. The fixed stem maximizes diffusion, ensuring that each hit is thoroughly filtered for a satisfying dabbing experience. Say goodbye to harshness and embrace the purity of your concentrates with every inhale.
Bent Neck with Flared Mouthpiece for Comfort: Designed with your comfort in mind, our dab rig features a bent neck and flared mouthpiece. This ergonomic design provides a comfortable grip and a seamless connection between your lips and the rig. Enjoy effortlessly inhales and savor the full flavors and potency of your concentrates.
Direct Inject Joint Size: 14mm Male: Our dab rig is equipped with a 14mm male direct inject joint, allowing for easy compatibility with a wide range of accessories. This standardized size ensures effortless attachment and customization, giving you the freedom to tailor your dabbing setup to your preferences. Explore versatility and elevate your dabbing game.
Triple 9-Arm Perc for Optimal Filtration: Prepare for unparalleled filtration with the triple 9-arm perc in our dab rig. This perc features nine arms, working in harmony to diffuse and cool down the smoke, resulting in smooth and flavorful dabs. Experience the full potential of your concentrates as the perc enhances their potency and purity.
Colored Base and Mouthpiece for Visual Appeal: Our dab rig boasts a colored base and mouthpiece, adding a touch of visual delight to your dabbing experience. The colors may vary, making each rig unique and visually striking. Showcase your style and personality as you enjoy the artistry of this sleek and captivating dab rig.
Bowl Included for Convenience: To provide a complete dabbing package, we've included a bowl with our rig. This convenient addition allows for immediate use, so you can start enjoying your concentrates without delay. Embrace the ease and simplicity of our all-inclusive dab rig.
Perfect Height for Optimal Performance: With a height of 11.5" from the base to the mouthpiece, our dab rig strikes the perfect balance between functionality and presence. The height from the base to the top of the rig joint measures 5", providing an optimal dabbing experience. Actual measurements may vary, ensuring each piece is crafted to perfection.
Experience the Difference: Unlock the full potential of your dabbing sessions with our exceptional 11.5" Triple Arm Perc Glass Dab Rig. Embrace the perfect fusion of superior filtration, sleek design, and user-friendly functionality. Elevate your dabbing experience and indulge in the smoothness and flavor that this rig offers.
Note: Colors and actual measurements may vary, ensuring each dab rig is a unique work of art. Embrace the beauty of individuality and allow yourself to be enchanted by the distinctive nature of your dab rig.
11.5" Triple Arm Perc Glass Dab Rig Features:
Diffused Fixed Stem design
Bent neck with a flared mouthpiece
Direct inject joint size: 14mm Male
Perc: Triple 9Arm Perc
Colored Base & Mouthpiece
Colors May Vary
Bowl Included
Height from base to mouthpiece: 11.5" 
Height from base to top of rig joint: 5"
Actual Measurements May Vary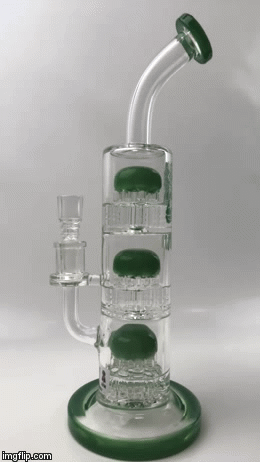 Shipping is free on all orders $75+ within the lower 48 states only. Any order under $75 has a flat rate of $7.50.
Orders from Hawaii & Alaska and Canada will have a carrier rate applied based on order size, weight, and address.
All return claims must be emailed to smokeafm@gmail.com within 48hrs of order delivery with photos to be eligible for a free return label. Any order return claims emailed after 48 hours will be charged $7.50 for a return label fee.
For any incorrect, missing, or broken items please email us at smokeafm@gmail.com with your order number, photos showing the issue. We will do our best to take care of the situation the best we can.