Diffused Fixed Stem Design: The dab rig features a diffused fixed stem design that provides excellent smoke diffusion and filtration. This design helps to cool down the vapor and deliver smoother hits.

Mini Cake Shaped Water Chamber: The water chamber of the dab rig is shaped like a mini cake, adding a unique and aesthetic touch to the overall design. The water chamber also ensures efficient water filtration for a smoother and more enjoyable dabbing experience.

Bent Neck with Flared Mouthpiece: The rig is equipped with a bent neck and a flared mouthpiece. The bent neck design not only adds to the rig's aesthetic appeal but also provides a comfortable angle for inhaling. The flared mouthpiece further enhances the comfort and ease of use.

Direct Inject Joint Size: The dab rig features a 14mm female direct inject joint size. This size is standard and allows for easy attachment of various compatible dab accessories, such as nails and bangers.

Perc: The dab rig is equipped with a reinforced multi-slit perc. This perc design consists of multiple slits that effectively break down the vapor, providing optimal diffusion and smoother hits for your concentrates.

Full Color: The entire dab rig features vibrant and eye-catching full-color glass, enhancing its visual appeal. The use of full-color glass adds character and personality to the rig, making it a standout piece in your collection.

Dimensions: The dab rig stands at a height of 4.5 inches from the base to the mouthpiece, providing a compact and portable size. The height from the base to the top of the rig joint is 2.5 inches, making it a low-profile and easily manageable rig.

Banger Not Included: Please note that the rig does not come with a banger. You will need to purchase a compatible banger separately to complete your dabbing setup.
Overall, the 4.5" Full Color Cake Glass Mini Dab Rig offers a visually appealing and functional option for dab enthusiasts. Its unique design, efficient filtration, and convenient size make it an excellent addition to any concentrate lover's collection. Enjoy smooth and flavorful dabs with this compact and stylish mini dab rig.
4.5" Full Color Cake Glass Mini Dab Rig Features:
Diffused Fixed Stem design
Mini Cake shaped water chamber
Bent neck with a flared mouthpiece
Direct inject joint size: 14mm Female
Perc: Reinforced Multi-Slit Perc
Full Color 
Height from base to mouthpiece: 4.5" 
Height from base to top of rig joint: 2.5"
Actual Measurements May Vary
** banger not included **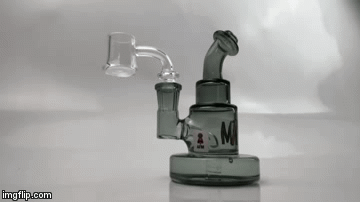 Shipping is free on all orders $75+ within the lower 48 states only. Any order under $75 has a flat rate of $7.50.
Orders from Hawaii & Alaska and Canada will have a carrier rate applied based on order size, weight, and address.
All return claims must be emailed to smokeafm@gmail.com within 48hrs of order delivery with photos to be eligible for a free return label. Any order return claims emailed after 48 hours will be charged $7.50 for a return label fee.
For any incorrect, missing, or broken items please email us at smokeafm@gmail.com with your order number, photos showing the issue. We will do our best to take care of the situation the best we can.