The 8" Wave UFO Perc Glass Dab Rig is a stylish and functional piece designed for a smooth and enjoyable smoking experience. Here are its key features:
Height: The dab rig stands at 8 inches tall, providing a convenient and compact size for easy handling and portability.

UFO Perc: The rig is equipped with a UFO perc, which stands for "Unidentified Filtration Object." This perc design features multiple slits around the percolator, providing excellent smoke diffusion and filtration for smoother hits.

Fixed Stem Design: The rig features a fixed stem design, ensuring stability and durability during use.

Flared Mouthpiece: The rig comes with a flared mouthpiece, offering comfortable and ergonomic inhalation.

Direct Inject Joint Size: 14mm Female: The dab rig has a 14mm female joint size, making it compatible with various attachments and accessories.

Sleek Design: The rig showcases a sleek and modern design, making it an attractive piece for any collection.

Colored Glass Accents: The dab rig may feature colored glass accents, adding visual appeal to the overall design.

Bowl Included: The dab rig comes with a bowl included, making it ready for use right away.

Actual Measurements May Vary: As with handcrafted glass pieces, the actual measurements may vary slightly, ensuring that each rig is unique and one-of-a-kind.
The 8" Wave UFO Perc Glass Dab Rig is perfect for concentrate enthusiasts who seek a compact and efficient rig with excellent percolation capabilities. The UFO perc ensures that your hits are smooth and flavorful, while the stylish design adds a touch of sophistication to your smoking sessions. Enjoy your concentrates with ease and elegance using the 8" Wave UFO Perc Glass Dab Rig.
8" Wave UFO Perc Glass Dab Rig Features:
Diffused Fixed Stem design
Bent neck with a flared mouthpiece
Direct inject joint size: 14mm Female
Perc: Shower Head Style Perc
Colored base & mouthpiece
Colors May Vary
Height from base to mouthpiece: 8" 
Height from base to top of rig joint: 4.5"
Actual Measurements May Vary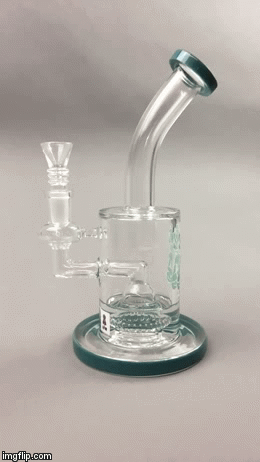 Shipping is free on all orders $75+ within the lower 48 states only. Any order under $75 has a flat rate of $7.50.
Orders from Hawaii & Alaska and Canada will have a carrier rate applied based on order size, weight, and address.
All return claims must be emailed to smokeafm@gmail.com within 48hrs of order delivery with photos to be eligible for a free return label. Any order return claims emailed after 48 hours will be charged $7.50 for a return label fee.
For any incorrect, missing, or broken items please email us at smokeafm@gmail.com with your order number, photos showing the issue. We will do our best to take care of the situation the best we can.