A perfect budget-friendly beaker bong. Elevate your smoking experience with our 10" Bubble Glass Straight Tube Bong. This sleek and functional piece is designed to provide smooth hits and enhance your smoking sessions.
Included with the bong, you'll find a downstem and bowl, ensuring you have all the necessary components for a satisfying smoke right from the start. The downstem size is 3.5", allowing for optimal airflow and filtration.
The standout feature of this straight-tube bong is the Bubble Chamber UFO, which adds an extra layer of diffusion and filtration to your smoke. This innovative design promotes cooler and smoother hits, enhancing your overall smoking experience.
The slide joint size is 14mm Female, providing compatibility with a wide range of accessories and attachments to customize your smoking setup according to your preferences.
To enhance the cooling effect, the bong is equipped with three ice pinches, allowing you to add ice cubes for an even smoother and cooler hit.
Featuring a colored base and mouthpiece, this bong adds a stylish touch to your smoking collection. Please note that the colors may vary, ensuring each piece is unique and personalized.
With a height of 10" from the base to the mouthpiece, this straight tube bong strikes a perfect balance between portability and functionality. Please keep in mind that actual measurements may vary slightly due to the handmade nature of the product.
Experience the perfect fusion of functionality and aesthetics with our 10" Bubble Glass Straight Tube Bong. Enjoy smooth hits, enhanced filtration, and a visually appealing design that enhances your smoking pleasure.
10" Bubble Glass Straight Tube Bong Features:

Downstem and bowl included

Bubble Chamber UFO

Slide joint: 14mm Female

Downstem Size: 3.5"

3 Ice pinches

Color base and mouthpiece

Height from base to mouthpiece: 10" 

Actual Measurements May Vary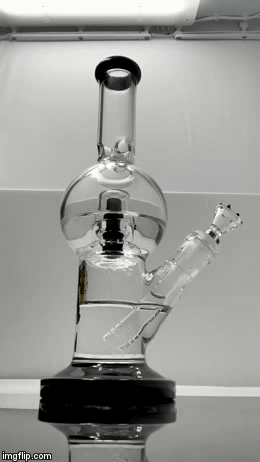 Shipping is free on all orders $75+ within the lower 48 states only. Any order under $75 has a flat rate of $7.50.
Orders from Hawaii & Alaska and Canada will have a carrier rate applied based on order size, weight, and address.
All return claims must be emailed to smokeafm@gmail.com within 48hrs of order delivery with photos to be eligible for a free return label. Any order return claims emailed after 48 hours will be charged $7.50 for a return label fee.
For any incorrect, missing, or broken items please email us at smokeafm@gmail.com with your order number, photos showing the issue. We will do our best to take care of the situation the best we can.