Introducing the Cap – a fusion of elegance and innovation that promises to elevate your dabbing experience. Meticulously crafted with Reversal Glass, this cap is designed to enhance both the aesthetics and functionality of your dab rig setup.
Features:
Reversal Glass Elegance: The Cap showcases the enchanting beauty of Reversal Glass, where colors and patterns intertwine to create a visual masterpiece. Each cap is a unique testament to artistry and craftsmanship.

Fits 25mm Bucket Bangers: Designed to fit 25mm bucket bangers seamlessly, this cap ensures a secure and optimal connection, enhancing the performance of your dab rig.

Air Flow Cap Design: The Cap is thoughtfully designed as an air flow cap, enhancing your dabbing experience by providing consistent and controlled airflow. Enjoy hits that are smooth and flavorful with every session.

Not Intended for a Spinner: While not designed for spinner functionality, the cap's air flow design ensures a pleasurable and customized experience, allowing you to tailor each draw according to your preference.

Actual Colors May Vary: Just as every artist's brushstroke yields a unique masterpiece, the colors of each Cap are a delightful surprise. Due to the handcrafted nature of the glasswork, each cap boasts a distinct color palette and pattern.
Elevate your dabbing rituals with the Cap – a perfect union of artistry and function. Whether you're an experienced dabber or new to the world of concentrates, this cap promises an exceptional and visually captivating experience. Secure your Cap today and add a touch of sophistication and innovation to your dab rig.
Cap Features:
Reversal Glass

Fits 25mm bucket bangers

Air Flow Cap - not intended for a spinner

Actual Colors May Vary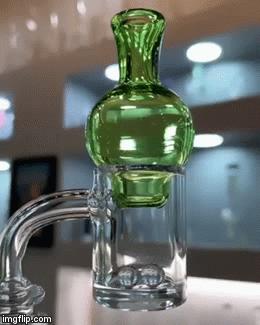 Shipping is free on all orders $75+ within the lower 48 states only. Any order under $75 has a flat rate of $7.50.
Orders from Hawaii & Alaska and Canada will have a carrier rate applied based on order size, weight, and address.
All return claims must be emailed to smokeafm@gmail.com within 48hrs of order delivery with photos to be eligible for a free return label. Any order return claims emailed after 48 hours will be charged $7.50 for a return label fee.
For any incorrect, missing, or broken items please email us at smokeafm@gmail.com with your order number, photos showing the issue. We will do our best to take care of the situation the best we can.