Introducing our Double Ram Recycler dab rig, a masterpiece of design and functionality. This recycler is thoughtfully crafted to elevate your smoking experience to a whole new level.
With its drop stemless design, this recycler offers a sleek and streamlined look that is both modern and sophisticated. The flared mouthpiece provides a comfortable and ergonomic smoking experience, allowing you to enjoy your sessions without any discomfort.
Featuring a unique barrel double recycler, this piece ensures optimal water and smoke circulation, resulting in exceptional filtration and cooling. The dual recycler design enhances the diffusion process, providing smooth and flavorful hits every time.
The direct inject joint size of 14mm female guarantees a secure and seamless connection to your favorite accessories. This joint size is versatile and widely compatible, allowing you to customize your setup with ease.
Equipped with a slotted puck perc, this recycler delivers superior filtration, resulting in clean and enjoyable hits. The perc maximizes water and smoke interaction, providing a smooth and satisfying smoking experience.
Featuring a full-color design, this recycler is a visual delight. The vibrant hues add a touch of personality and make a bold statement. Stand out from the crowd and express your unique style with this eye-catching recycler.
Included with the recycler is a bowl, ensuring that you have everything you need for a seamless smoking experience. The bowl is designed to complement the recycler, providing a convenient and practical addition.
Measuring a height of 8 inches, this recycler offers a comfortable grip and easy handling. The height from the base to the top of the rig joint is 5 inches, providing a compact and portable design without compromising functionality.
Please note that actual measurements may vary slightly due to the handmade nature of the product, adding a touch of uniqueness to each piece.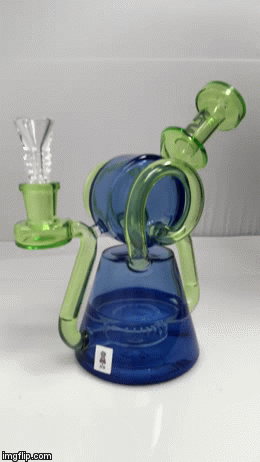 Shipping is free on all orders $75+ within the lower 48 states only. Any order under $75 has a flat rate of $7.50.
Orders from Hawaii & Alaska and Canada will have a carrier rate applied based on order size, weight, and address.
All return claims must be emailed to smokeafm@gmail.com within 48hrs of order delivery with photos to be eligible for a free return label. Any order return claims emailed after 48 hours will be charged $7.50 for a return label fee.
For any incorrect, missing, or broken items please email us at smokeafm@gmail.com with your order number, photos showing the issue. We will do our best to take care of the situation the best we can.