Introducing the 12" Sidewinder Inline Perc Glass Bong, a masterpiece of craftsmanship and functionality. Designed to deliver smooth and flavorful hits, this bong offers a range of exceptional features. Let's explore what sets it apart:
Stemless Design: Enjoy seamless airflow and easy maintenance with the stemless design of this bong. The absence of a downstem simplifies the setup process and enhances the overall smoking experience.
Dual Perc System: Experience optimal filtration and diffusion with the combination of an inline perc and a 7-arm perc. The inline perc breaks down the smoke into finer bubbles, while the 7-arm perc further filters and cools the smoke, resulting in smoother hits and enhanced flavor.
Superior Construction: Crafted with premium quality glass, this bong boasts durability and resilience. The thick glass ensures long-lasting performance, making it a reliable companion for your smoking sessions.
Flared Mouthpiece: The flared mouthpiece not only adds a touch of style but also provides a comfortable and ergonomic grip. It allows for a seamless smoking experience by facilitating controlled inhalation and minimizing any potential discomfort.
Vibrant Color Accents: Featuring a color-matched mouthpiece, base, and perc, this bong adds a vibrant and eye-catching element to your smoking sessions. The colorful accents not only enhance its aesthetic appeal but also make it a standout piece in your collection.
Slide Joint Compatibility: With a 14mm female slide joint, this bong offers compatibility with various accessories and attachments. Customize your smoking experience by adding different bowls, slides, or ash catchers to suit your preferences.
Optimal Height and Measurements: Standing at 12 inches tall, this bong strikes the perfect balance between size and functionality. The height to the top of the mouthpiece ensures comfortable inhalation, while the height to the top of the rig joint provides easy access for cleaning and customization. Please note that actual measurements may vary slightly due to the handmade nature of the product.
Colors May Vary: Embrace the element of surprise with the possibility of different color variations. Each bong may feature unique color combinations, adding an element of excitement to your smoking experience.
Experience the pleasure of smooth and filtered hits with the 12" Sidewinder Inline Perc Glass Bong. From its stemless design and dual perc system to its vibrant color accents and comfortable flared mouthpiece, every detail is designed to enhance your smoking sessions. Enjoy the versatility of the slide joint and the reliable craftsmanship of this bong, and let it become your trusted companion for unforgettable smoking experiences.
12" Sidewinder Inline Perc Glass Bongg Features :
Stemless Design with female joint
Perc1: Inline Perc
Perc2: 7ARM Perc
Slide joint: 14mm female
Flared Mouthpiece
Color Mouthpiece & Base & Perc
Height to top of mouthpiece: 12 inches
Height to top of rig joint: 5.5 inches
Colors May Vary
Actual Measurements May Vary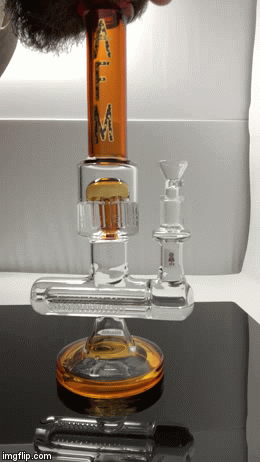 Shipping is free on all orders $75+ within the lower 48 states only. Any order under $75 has a flat rate of $7.50.
Orders from Hawaii & Alaska and Canada will have a carrier rate applied based on order size, weight, and address.
All return claims must be emailed to smokeafm@gmail.com within 48hrs of order delivery with photos to be eligible for a free return label. Any order return claims emailed after 48 hours will be charged $7.50 for a return label fee.
For any incorrect, missing, or broken items please email us at smokeafm@gmail.com with your order number, photos showing the issue. We will do our best to take care of the situation the best we can.