The Bubble Spinner Carb Cap is a dabbing accessory made from colored glass, designed to fit 25mm bucket bangers, which are heating elements used for dabbing concentrates or extracts. 
The cap also features an "Air Flow Cap," which allows the user to regulate the airflow during the dabbing process, providing a smoother and more controlled experience.
Additionally, the package includes two clear pearls. Pearls are small spherical pieces made from glass, quartz, or other materials that are placed in the banger during dabbing. They help to distribute the concentrate evenly, ensuring efficient vaporization and enhancing the flavor.
As with many glass products, the Bubble Spinner Carb Cap and the included pearls may come in various colors and patterns due to the handmade nature of the glassblowing process. The statement "Actual Colors May Vary" indicates that the colors and patterns of the items in the package may differ from the image or description provided, making each set unique and individual.
Bubble Spinner Carb Cap + 2 Pearls Features:
Colored Glass 

Fits 25mm bucket bangers

Spinner Functionality

Air Flow Cap

Two clear pearls included
Actual Colors May Vary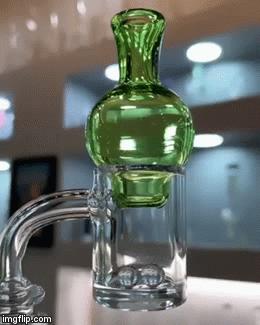 Shipping is free on all orders $75+ within the lower 48 states only. Any order under $75 has a flat rate of $7.50.
Orders from Hawaii & Alaska and Canada will have a carrier rate applied based on order size, weight, and address.
All return claims must be emailed to smokeafm@gmail.com within 48hrs of order delivery with photos to be eligible for a free return label. Any order return claims emailed after 48 hours will be charged $7.50 for a return label fee.
For any incorrect, missing, or broken items please email us at smokeafm@gmail.com with your order number, photos showing the issue. We will do our best to take care of the situation the best we can.